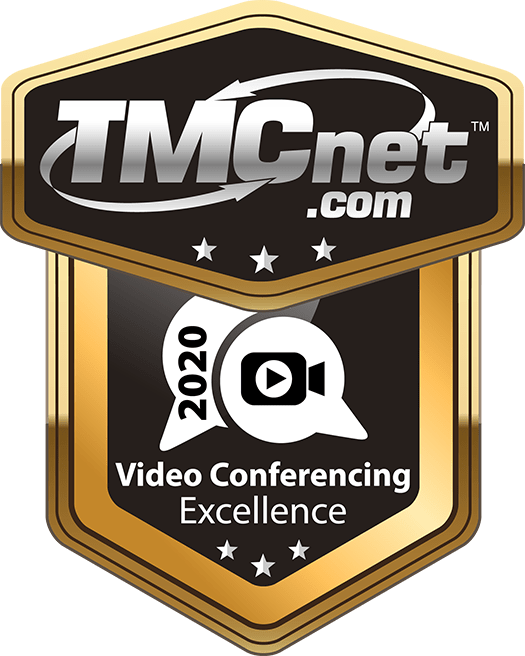 It always feels great when we hear that one of our products has impressed a professional panel of judges. It feels even better when a product released within the past year has won an industry accolade, and that's exactly what's happened with TMCnet's 2020 Video Conferencing Excellence Award.
Our Video Conferencing feature was in development this spring, in a beta test with select customers by summer, and released to the public by autumn. Now we've heard that it has gained the 2020 Video Conferencing Excellence Award from TMCnet, whose CEO, Rich Tehrani, had this to say about our selection.
"The TMCnet Video Conferencing Excellence Award recognizes innovative video conferencing platforms. These companies have shown a commitment to driving and improving the video conferencing industry through their solutions."
"VirtualPBX has proven their commitment to quality and the further development of video conferencing industry," he continued. "I look forward to seeing more innovative solutions from them as they continue to contribute to the future of teleworking."
Innovation Through Diversity
We believe our Video Conferencing feature, which is part of our Advanced and Enterprise Plans, pushed the business communications market forward through a combination of varied device support and VoIP feature interoperability.
At present, our customers can complete calls on the mobile and desktop VirtualPBX Softphone and on desktop VoIP phones that support video calls. Two notable hardware phones that have been tested in our development program are the Yealink T58V and VP59. This list of compatible devices will also soon be extended to include the VirtualPBX Web Phone.
Video callers will be able to speak with other video callers and with audio-only call participants. Both high-definition video and audio can be used in one-to-one calls or through conferences. Businesses may be begin calls with their company extensions – between team members – or to customers and company stakeholders with supported devices.
Conferences currently support up to 100 callers in a single conference room. That ceiling will be increased to support several-hundred participants in the coming weeks.
Video Conferencing stands alongside many other enterprise features such as API Access and universal plan features like Zapier Integration that make customization and automation of a business's phone system possible. To get all our Video Conferencing customers started with speed, we also include Priority Support with their plans for quick configuration of devices and instruction for advanced phone system use.
Reflection on the Award
VirtualPBX COO Lon Baker spoke about what this means to our entire team:
"The release of Video Conferencing is one we've eagerly awaited," said VirtualPBX COO Lon Baker. "More and more, businesses look to a single service provider for all their communications needs, and now that remote work is expanding globally, our addition of video capability helps our customers get everything they need in a single package."
This is a huge step for our company to begin offering a unified communications environment to our customers. In 2020 alone, our Business Phone Plans Video Conferencing alongside Business SMS, Multiple Auto Attendants, ACD Queues Pro, Voicemail Transcription, and Dynamic Caller ID. Our outreach to current and existing customers has helped them used these and all our phone system features to better weather the transition from on-site to remote work.
It's fantastic to see validation for the hard work our development team has put into Video Conferencing and all the other features now available to any business that needs them. The 2020 Video Conferencing Excellence Award marks a special place in our awards cabinet because of the quick turnaround (from feature development to public release to award win) and for how it expands our reach in the communications industry.
Device support, call clarity, ability to mix video and audio calls, and interoperability with other VirtualPBX features gives businesses yet another reason to try VoIP and see exactly how they can fit all their communications in a single package.