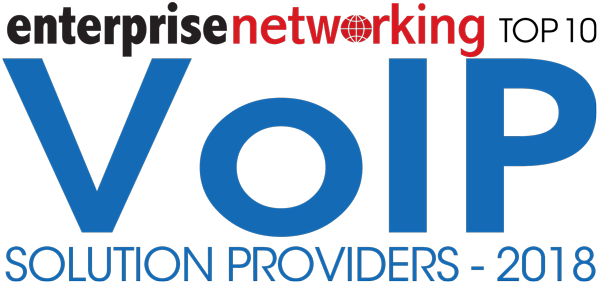 It's been a busy few weeks for awards here at VirtualPBX. First was the 2018 WebRTC Product of the Year Award for our free to use Web Phone, then the 2018 Unified Communications Product of the Year Award for our new 4G LTE Mobile Feature, and now we're back again with more award news. This time, however, it's not one particular feature that we're celebrating, but our core VoIP service – Dash Business Phone Plans – which just received a Top Ten VoIP Solution Provider award.
Enterprise Networking Mag Names VirtualPBX 2018 Top Ten VoIP Solution Provider
In their Top Ten VoIP Providers article, Enterprise Networking Mag details the top features of Dash Business Phone Plans, including:
Auto Attendant: greets your callers with a pre-recorded message, directing them to the individual, department, voicemail box, or informational message of their choosing. Perfect for businesses of all sizes, Auto Attendant is your virtual receptionist, saving time for your callers and employees, while also working overtime to route callers during off-hours and holidays to pre-selected alternate destinations.
4G LTE Mobile: this award-winning feature gives you and your employees the freedom of mobility by allowing you the full use of VoIP features on mobile phones without forwarding calls or installing apps. Additionally, as a first for VirtualPBX customers, 4G LTE Mobile also includes texting and shared data.
Web Phone: the perfect communications insurance plan and/or preferred streamlined calling solution, this feature allows you to make calls on any device using a web browser. The Web Phone, powered by WebRTC technology, is included for free on all plans and uses plan minutes.
Award-Winning Features, Interface, and Service Backed by 24/7 Support
While Dash Business Phone Plans were only released two years ago, our commitment to our customers goes back to our founding over twenty years ago. That's why we offer 24/7 support with all plan levels – whether you're a one person shop or leading an enterprise with thousands of employees – we are standing by at all hours to lend a hand. But our support isn't limited to the help you may need in the moment. We're committed to grow with our customers by expanding the technology our plans our built on, tracking feedback, and making available for the public our VirtualPBX Product Roadmap.
Test Drive the Best for Free
The features above just scratch the surface. Take a look at the full list of Dash Features today and you just may find a way that we can help you streamline your business communications. We believe in our offering so strongly, our Sales Team will lead you through a personalized Free Demo so you can see everything our phone plans offer before you buy. So, what are you waiting for? Find out for yourself why VirtualPBX is ranked among the top ten VoIP providers today!