How to Record a Phone Call With Dash
Now that our Dash Business Phone System offers call recording, you may want some more detail about how to record a phone call that passes through your business.
Whether or not you're new to Dash, you'll be joining the legion of businesses that now seek call recording as a primary feature in their business phone configurations. The need for call recording, according to Software Advice, has even surpassed call routing as a desired feature, and rightly so, given the compliance regulations that now govern nearly all financial institutions and call centers.
The good news is that this process only takes a few minutes to set up. Before we're done today, we'll have covered the basics of Recording permissions that affect individuals and Ring Groups in Dash. If you need any more guidance, refer to the Dash Support Guide.
As an Individual: How to Record a Phone Call
In Dash, call recording is turned off by default. System administrators can activate recording for any user by editing the appropriate settings. From the Dash Dashboard:
Click the Users tab (left-hand side of your screen)
Locate the desired user whose calls you want recorded
Click the User Features option (far-right column) in the user's row
Now you'll see a screen that looks like this:
Select the Customized Call Recording option to open a screen with inbound and outbound recording preferences. You can choose to turn on recording for internal and external calls. The following options, shown in the following screenshot, are available to all your users.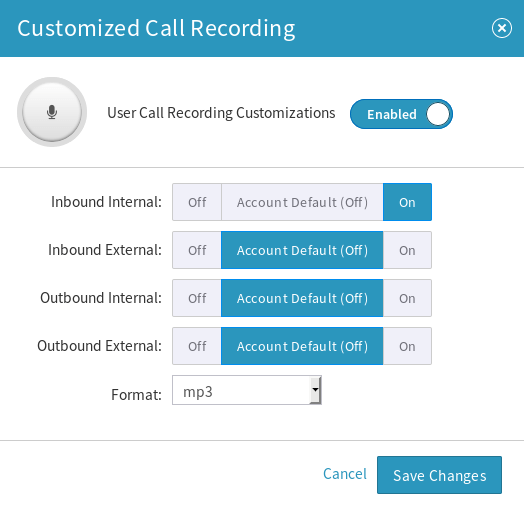 When you turn any of the options to On you will gain access to the Format: drop-down menu that allows you to select the format in which your recordings are saved. You can choose either .mp3 and .wav at this time.
Conferencing
The options presented here for individuals also impact their calls in conferences. In Dash, conferences are considered both outbound and internal calls since users dial out to reach a conference but the call never needs to route through the public telephone network.
Therefore, in order to record a conference call, the user would need to have their Outbound Internal option switched to On. This rule applies to both conference hosts and participants.
As a Ring Group: How to Record a Phone Call
The process for adding call recording to an entire ring group is similar to the Individual process described above.
From your Dashboard, follow these steps:
Click the Groups tab
Create or locate the Ring Group whose calls you want recorded
Click the Group Features option in the group's row
In the menu that pops up, select Call Recording
Now you should see a menu that looks like one pictured here. When you enable the Recording setting for the group you can again choose the format in which you want the files saved.
Inbound Only
One limitation of this approach is that it only enables the recording of inbound calls for a group's members. If you want Dash to record users' outbound calls, you have to enable the Outbound settings in their individual User Features options as explained in the previous section of this article.
Accessing Your Recordings
No matter in which context your phone calls were recorded, you can find your personal recordings on our Dash Recording Manager. Use your Dash username and password to log in.
The Recording Manager Dashboard lets you sort recordings according to the phone number and date associated with the file. Then you can either listen to the recording in your browser or download individual files to your computer.
You could soon record some of your best conversations while using the Yealink CP960. Enter our giveaway by clicking the banner below.