VirtualPBX Business Phone Plans Recognized for Industry Innovation
San Jose, CA (March 14, 2023) — VirtualPBX announced today that TMC, a global, integrated media company, has named their Business Phone Plans as a recipient of a 2023 INTERNET TELEPHONY Product of the Year Award.
"As the COO, I'm incredibly proud of our team's achievement in winning the 2023 INTERNET TELEPHONY Product of the Year Award for our VirtualPBX Business Phone Plans," remarked Lon Baker, VirtualPBX Chief Operations Officer.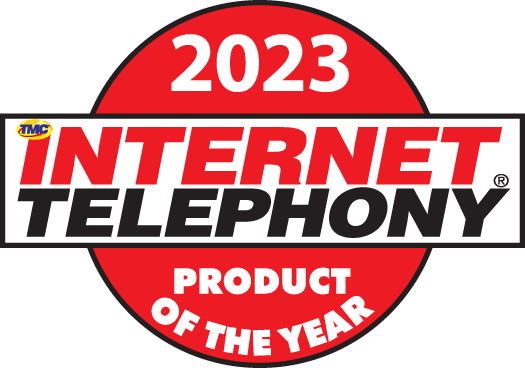 "This recognition reflects our unwavering commitment to providing our customers with cutting-edge communication solutions. As we strive to replicate this success with our Text Messaging service, we remain dedicated to delivering exceptional value and experiences to our customers."
The Text Messaging services offered by VirtualPBX have undergone drastic improvements over the last few months surrounding compliance and features. While providers across the business SMS landscape bring compliance management online ahead of the March 31st industry deadline, VirtualPBX has been standing out from the crowd with their simplified registration process and low, transparent fees. On the features front, VirtualPBX has taken their original offering and expanded functionality to include Canned Responses, QR Code Automated Responses, and Number Sharing.
Text Messaging is just one key component of VirtualPBX Business Phone Plans. Customers also take advantage of voice features like Greetings, Auto-Route, ACD Queues, Integrations, and Advanced Reporting.
"I am honored to recognize VirtualPBX with a 2023 Product of the Year Award for its commitment to excellence and innovation," said Rich Tehrani, CEO, TMC. "In the opinion of our judges and editorial team, VirtualPBX Business Phone Plans have proven to be among the best communications and technology solutions available on the market. I look forward to continued leadership from VirtualPBX."
The winners of the 2023 INTERNET TELEPHONY Product of the Year will be featured in INTERNET TELEPHONY magazine online and on TMCnet.
About VirtualPBX
Founded in July 1997, VirtualPBX delivers premium voice, texting, and call center solutions for our customers, who work in the office, remotely, and everywhere in between. We offer more than just products and services; we make your business better with quality customer care and 24/7 support. 
VirtualPBX Contact
Rachel Anderson, Chief Marketing Officer
888.825.0800 Ext. 339
[email protected]
About INTERNET TELEPHONY magazine
INTERNET TELEPHONY has been the IP Communications Authority since 1998™. Beginning with the first issue, INTERNET TELEPHONY magazine has been providing unbiased views of the complicated converged communications space. For more information about TMC, visit www.tmcnet.com.
TMC Contact                                                                                                           
Michelle Connolly, Marketing Manager
203-852-6800, ext. 170
[email protected]