We're not even one third of the way through 2023 and it's already been a big year over at VirtualPBX – and what better way to celebrate than with a TMC 2023 Internet Telephony Product of the Year Award! 
Said Rich Tehrani, CEO, TMC, "in the opinion of our judges and editorial team, VirtualPBX Business Phone Plans have proven to be among the best communications and technology solutions available on the market. I look forward to continued leadership from VirtualPBX."
So what has been happening?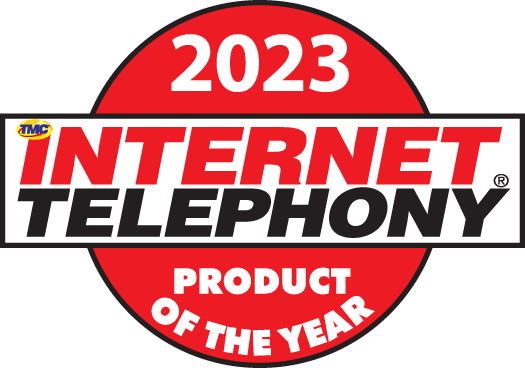 How Did we Achieve Award-Winning Business Phone Plans... Again?
Not to sound too full of ourselves, but we've known our communications solutions were among the best on the market for some time. Why? Because we are committed first and foremost to our customers. When they're successful, productive, and able to communicate with their own customers effectively – we know we're on the right track. By soliciting their feedback on the features and customer service we provide, we keep a pulse on what really matters.
Our award-winning business phone plans are the entry point for most customers and we've tailored them to offer pro-level features on every plan while simultaneously reserving more complex features for larger businesses on our higher tier plans. By doing this we ensure that not only is there a cost-effective entry point for solo-preneurs and call centers alike, but that there is always room to grow. When our customers' businesses grow, we're ready to help them level up with options that handle larger traffic volumes, new offices (including home offices of remote employees), department overflow, and changing shifts and schedules.
Taking the Burden out of Text Messaging Registration
One element in particular that's made this year so momentous so early has been our release of Text Messaging Registration. When we were first presented with the new industry regulations around text messaging for businesses, we knew there would be frustration among customers across the entire market. To curb the burden that these customers would surely feel, our mission has been to simplify the process as much as possible; taking the heavy-lifting, breakdown of new acronyms, dates to remember, fee-management, steps to become compliant, and registration monitoring as much in our own hands as possible. 
This Text Messaging Registration process has proved successful. We've registered the bulk of our text messaging customers well ahead of the industry deadline and even taken on new customers looking for an easier route to compliant text messaging. These customers can check the status of their registration easily inside their VirtualPBX dashboard and compliance around opting-in and opting-out has been built right into our popular text messaging application – the VirtualText App. 
What's Next for VirtualPBX Business Phone Plans?
Of course, while our teams will be celebrating this win announced by TMC, the work will continue to stay at the top of the industry. In 2023, we have even more big news planned around our text messaging features, voice solutions, and call center capabilities which our teams are hard at work improving. In short – we have a lot planned for 2023, so stay tuned! Want to be the first to know when these releases are dropped? Sign up for our newsletter today!