Today, we are excited to announce that we have been awarded the 2022 TMCnet Teleworking Solutions Excellence Award for our VirtualText App.
Teleworking during the COVID-19 pandemic has been a challenge for many businesses, especially those that have been forced to move their operations entirely to remote work.  The TMCnet Teleworking Solutions Excellence Award honors available products that help ensure remote workers have access to the same communications and other corporate resources as they would in the office.  Whether they are adjusting to new teleworking environments during the COVID-19 pandemic, or had previously adopted technologies in response to an already existing remote workforce trend, the products and services from winners of the 2022 Teleworking Solutions Excellence Award will enable businesses to effectively support their mobile and remote workforces.
"We are so excited that the VirtualText App has won the 2022 TMCnet Teleworking Solutions Excellence Award. At VirtualPBX, we pride ourselves on listening closely to what our customers need to succeed. This new endeavor enhances our communications and will open up more opportunities for us to explore as a company." – Rachel Anderson, CMO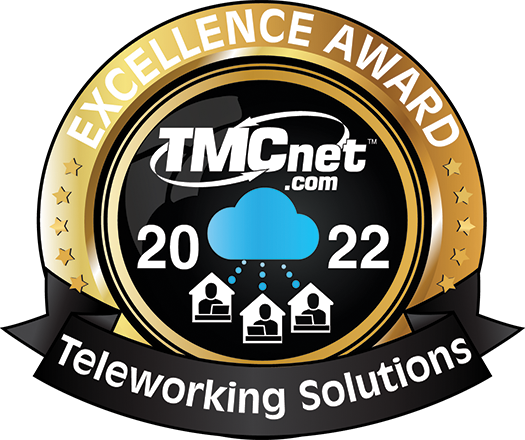 Future of 2022: Remote Work Solutions
What features should be in play to make remote work successful for all parties? Those "essential technologies" are chat, voice, and video, and they are the heart of building your company's culture, helping team members connect, and showcasing your company's mission.
For businesses embracing remote or hybrid work environments, success depends on leveraging the strengths of each type of communication is critical.
Our focus is on providing the best possible service to our clients, and we strive to make every interaction a pleasant one. We know that our clients want the best for their businesses and their employees, which is why we go above and beyond to make sure they can communicate effectively as they grow.
VirtualPBX is an award-winning leader in business communications, and we look forward to continuing on this path with more upcoming changes that will redefine how VirtualPBX customers communicate in 2022.
About The VirtualText App
With VirtualText you can easily send text messages to your leads, customers or candidates. With our business SMS platform you can send bulk text messages to large groups of people at once.
You don't need to be a tech wizard to get started with our business SMS platform. It's easy to set up and use, and it gives you control over every single detail of your communication. Use this app by itself or in conjunction with the browser version so you can work across devices without skipping a beat.
With the VirtualText Business App, you can connect with your clients in a way that makes sense for them—and you. If someone wants to get in touch about an order or an upcoming event, they can call in directly from the app without having to leave their phone number or email address. This allows you to have conversations with customers without having to worry about getting interrupted by other calls or messages.